ED Treatment with Acoustic Wave Therapy
Conveniently located to serve the areas of Walnut Creek, CA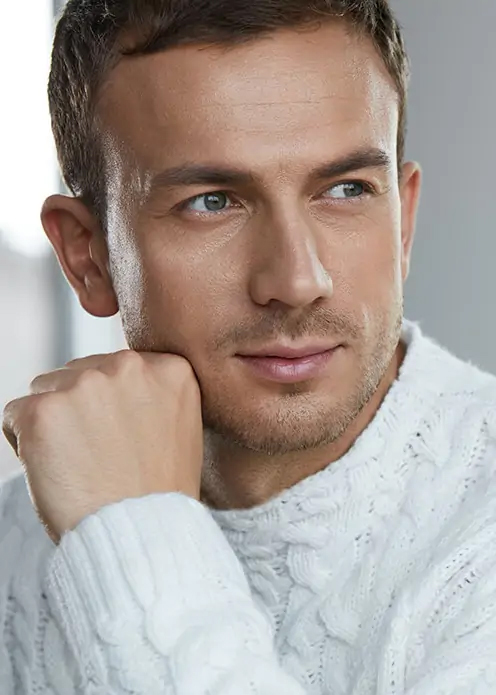 Acoustic wave (AW) therapy, sometimes called shockwave therapy, is a restorative treatment that uses low-intensity sound waves for better blood flow to the penis and the improvement of erectile function. One of the most common reasons for erectile dysfunction (ED) is insufficient blood flow. The constriction of penile blood vessels can reduce the strength and longevity of an erection. This is also more likely to happen as we age or if we have an underlying health issue. 
ED is a frustrating experience for any man. But with acoustic wave therapy, targeted acoustic energy opens the blood vessels of the penis and supports new blood vessel formation. After a series of AW treatments, patients can consider their ED problems a thing of the past!
Evolved Medical provides a range of advanced regenerative treatments to help men and women rediscover their sexual prowess. Using state-of-the-art technology, board-certified doctor of internal medicine Dr. Amit Rajguru provides acoustic wave therapy, testosterone replacement, platelet-rich plasma (PRP) treatments, and more to help patients rediscover their vitality and confidence. To book a personal consultation and discuss your needs with Dr. Rajguru, call our Walnut Creek office at (925) 433-8444 or submit a simple form on our website.
Get Professional Help for ED
Conservative figures reveal that 12 million men in the United States have erectile dysfunction, (1)  with many estimates that show the actual number may be double this figure. It's a common problem, especially for men over the age of 40, and one that can come with significant mental and emotional baggage. A patient may feel shame and low self-esteem which can lead to relationship problems, anxiety, and depression. (2) But, the fact is, ED is just like any other health condition, and there should be no shame whatsoever in seeking treatment! 
Erections & ED
Erections need a healthy blood supply and good vasculature. This is because two long, spongy regions of tissue in the penis called the corpus cavernosa become engorged with blood during an erection. This happens because as the tissues expand, the vascular structures in the penis compress, and the blood becomes trapped, sustaining an erection. With ED, many different factors can cause dysfunction in this mechanism, resulting in the inability to maintain an erection.
Causes of Erectile Dysfunction
Men of any age can have ED. However, it is more likely to affect people over 40. The risk of developing problems maintaining an erection grows higher with age, and increases with comorbid conditions. (2)  Many cases of ED are closely linked to cardiovascular problems. Patients with related conditions, such as high blood pressure (hypertension) may also be at a higher risk of developing ED. In fact, the prevalence of ED in hypertensive patients is approximately twice as high when compared to patients in the normal blood pressure range. (4)
Some researchers believe that atherosclerosis, or the hardening of blood vessels, may begin with ED symptoms in some patients. This is because the condition may affect smaller penile arteries first, rather than larger, more resilient arteries throughout the body. Other ED theories point to additional problems with cell and smooth muscle function as factors. (3)
Other conditions linked to ED include the following.
High Cholesterol
Diabetes
Excess Weight
Pelvic Surgery
Medications
Alcohol & Tobacco Use
How Does Acoustic Wave Therapy Work?
The aim of AW therapy is to improve erectile function gently, using sound energy only. By stimulating vascular tissues in the penis, AW treatments improve blood flow, for natural or spontaneous erections.
Harnessing the Shockwave
Firstly, there's nothing shocking about shockwave therapy! Sound energy (at both audible and inaudible frequencies) is an important feature of many medical treatments, for example, ultrasound. During ED treatment, an acoustic wave generator emits gentle pulses that are known in acoustics as shockwaves. 
A shockwave is created when a wave moves through something faster than the speed that sound can move through that medium. (5) Amplitude is a measure of sound pressure, or intensity. Put simply, shockwaves in AW therapy travel faster and have more energy than normal sound waves.
Low-intensity acoustic waves cause changes at a cellular level, including disruption of cell membranes. Once this happens, the body responds with healing factors that improve blood flow in the area.
Benefits of Acoustic Wave Therapy for ED
AW therapy can help men of any age deal with the difficulties of ED.
Increases blood flow to the penis
Promotes new blood vessel formation
Improves erectile health
Stimulates tissue repair and regeneration
Non-invasive and straightforward
Short, pain-free procedures
No medications required
Piezowave 2
A piezoelectric shockwave is a type of acoustic wave used in AW therapy. At Evolved Medical, Dr. Rajguru uses the state-of-the-art Piezowave2 platform for ED treatment. This next-generation shockwave device provides adaptable treatment modalities. 
Linear Focus: The wave has two dimensions (length and width) in the treatment area.
Point-Focus: The wave has one, targeted dimension.
Planar Focus: A "defocused" wave that is constant over an area.
By altering the size, thickness, and penetration depth of focus zones, doctors can choose the best settings for the condition they are treating. Dr. Rajguru can tailor the Piezowave2 to individualize your treatment and increase its effectiveness!
Personal Consultation
Unburden yourself of ED concerns at your personal consultation with us! When setting up your appointment, the experienced staff at Evolved Medical will be sensitive to your needs as a patient. Dr. Rajguru has helped hundreds of men overcome ED and is proud to make a real difference in people's lives. So, we encourage you to freely discuss any aspect of your life that has been affected by ED.
At every stage we provide you with the most effective, compassionate care, so feel free to share your experiences and ask any questions regarding your treatment plan. In addition to acoustic wave therapy, he may suggest additional treatments to augment your treatment and help you to achieve the best results. 
Book your one-on-one consultation with Dr. Rajguru by calling our Walnut Creek office at (925) 433-8444.
Procedure
Dr. Rajguru applies acoustic wave therapy locally in a series of short sessions, usually under 15 minutes in length. The Piezowave 2 is a portable machine with a disc-like handpiece that delivers acoustic waves to the treatment area. The targeted AW stimulation causes almost imperceptible microtraumas in penile tissues. Microtraumas disrupt cell membranes and cause mechanical stress. (5) These factors trigger a healing response that will improve vascularity and blood flow over time. 
By applying the appropriate amount of sound energy to the genital area, treatment is focused and fast. What's more, the process is quite comfortable. In fact, the majority of patients receiving acoustic wave therapy describe it as pain-free, while others say it causes only minor discomfort.
Live ED-Free with AW Therapy
A series of AW treatments can help you overcome erectile dysfunction. And, although you can't see it happening, the healing cascade starts immediately. Over time, the body responds to the acoustic micro-injuries with a healing response. It releases a cascade of cells to the area that works to rebuild and strengthen cells. This action also leads to the growth of new blood vessels (called neovascularization), increased blood flow, and better-quality erections!
Corresponding & Complementary Procedures
Bioidentical Hormone Replacement Therapy for Men
Bioidentical hormone replacement therapy (BHRT) uses hormones that precisely mimic those produced naturally by the body. It's particularly effective for men with low testosterone, providing increased energy levels and improved vitality!
PRP Shot for Men
Platelet Rich Plasma Shots can improve sexual function and virility. It uses specially-treated plasma from your own body to induce the production of stem cells in the treatment area. Among other benefits, the PRP Shot for men supports sexual stamina, and can also enhance erection strength and sensitivity.  
Read Dr. Rajguru's glowing testimonials here!
Cost of Acoustic Wave Therapy for ED in Walnut Creek, CA
Dr. Rajguru may recommend a sequence of acoustic wave treatments at predetermined intervals to address your ED. Individual patient requirements will differ, so the cost of your treatment plan may vary. Discuss your treatment plan with Dr. Rajguru at a personal consultation, and rid yourself of the anguish and frustrations of ED. Call (925) 433-8444 or use our online contact form to book your first appointment at Evolved Medical.
Read Dr. Rajguru's blog for more men's health and wellness treatments, and join Evolved Medical on Facebook, YouTube, and Twitter.
References